The Abrahamic Reunion is holding a 6-city speaking tour, Nov 6th – 19th throughout Germany, hosted by the Global Hope Fund. This blog is written (unless otherwise noted) by Dr. Anna Less, Co-Founder & International Executive Director of the Abrahamic Reunion. Contact anna@abrahamicreunion.org or info@abrahamicreunion.org  
Shattering Stereotypes at the Mosque in Mannheim

Our train arrives in Mannheim and Eva and Roland our hosts meet us and take us to our rooms for a short rest. We get settled and soon they pick us up for an early dinner. Our elegant Turkish host Talat Kamram, who has helped arrange our program in Mannheim, greets us when we arrive. He introduces us to the head of Germany's largest Mosque and also introduces us to the gentleman who will be translating our presentation from English to German.
After a lovely dinner, which our hosts graciously pay for, we go to the Mosque for our event.
We walk past the elaborate Wuzu fountain to the Mosque's dining hall for our presentation.
We remove the tables and make concentric arcs with the chairs.
The chairs begin to fill, more chairs are brought and those also fill, more chairs are brought and we push our chairs back to make room. The room fills to capacity and then to overflowing.

Mehmet and Ali Ungan the Turkish Musicians arrive and begin their concert. It is a magnificent event.  Eva whispers that she has tried to arrange for the press to come, but they are uninterested. They have another agenda.
Another translator is brought forward. She translates our Arabic and Hebrew speakers directly to German.
At the end our talk the musician's play traditional Turkish Ilahis for the group. Their music transports us all to another realm.
After our talk the many women in the audience are gathered around Sana and her translator shares that they are so moved by Sana and explains that Sana's voice is such an important voice to be heard, because Sana shatters the stereotype that Europeans hold about Muslim women. She explains that because of their dress Muslim women in Europe often feel they become a target for prejudice and so many negative attitudes and projections, and they feel that Sana is able to represent them.
After our presentation we go upstairs to the beautiful prayer room of the Mosque. It is glorious.  Congregants come forward and introduce themselves. Each one connects deeply from the heart. As we leave Ghassan stops in the gift shop to buy a Quran but our host refuses to let him pay. We go home to rest. Tomorrow morning we will travel to Ludwigshafen to present in a high school there.
In Peace,
Dr. Anna Less, International Executive Director
False Alarm & Mistaken Identity in Freiburg

Eliyahu McLean (2nd from Left) in Mannheim, an Orthodox Jewish Peacemaker ordained as a Rodef Shalom (Pursuer of Peace) by Rabbi Zalman Schacter, was mistaken on our journey for a terrorist. 
Our day with UWC ends very late and the next morning we get up at 5 AM to pack for our trip to Mannheim.
When Monica arrives to pick up Ghassan and I she hands me a German soccer jersey and a pair of soccer shorts for my 6-year- old grand son. She explains that this soccer uniform was her son's, which he has out grown now that he is 11. I am so touched. Thank you Moni.
Eliyahu has also gotten up early to visit Freiburg's Jewish Cemetery and look for the streets where his wife's relatives used to live.
We are supposed to meet for breakfast at the holiday flat where Eliyahu, Daniel, Khalil and Sana have been staying, and Eliyahu is a running late.
We have heard on the news that the German police have rounded up all of the Salafi Muslims in Germany. It is an ominous feeling, particularly here in Germany.
Just as we begin gathering our things to leave for the train, we hear shouting.
Someone is calling for the police. Eliyahu bursts into the room and cries out, "Siddiq go downstairs and talk to the neighbor. He is calling the police! He thinks I am a Muslim terrorist!
Ironically the neighbor is calling the police on Eliyahu who is an Orthodox Jewish Israeli Peace Activist because the neighbor fears he is a Muslim terrorist.
Siddiq runs down the stairs to calm the neighbor and we grow quiet as we continue to collect the dishes and gather our bags. We have to leave for the train. We don't know if Siddiq has been able to convince the neighbor that we are not terrorists. We feel nervous as we carry our bags past the neighbor's door. Will the police arrive and give us a hard time? We load the bags into the car and get in. We wonder has someone written down the license plate number? Will we be followed?
Finally once we are on the train for Manneheim with our things and it pulls away from the station towards Mannheim we exhale and relax a little, but the impression lingers.
Representing Many Religions
The AR's day at UWC College in Freiburg, Germany Continues
Alex Bird the coordinator of the interfaith day at UWC has asked the Abrahamic Reunion to facilitate the afternoon session for the entire student body and faculty.
We choose scriptures about  "Peace" from the Jewish, Christian, Muslim, and Sufi traditions and project them onto a screen in the auditorium.  (For your interest the scriptures we read are at the end of this article)
After reading all of the scriptures, over 300 students break into circles for discussion groups, then each scripture is projected on the screen for 15 minutes, and the students spend 15 minutes discussing only that scripture.
Then we project the next scripture for 15 minutes and that next scripture is discussed for 15 minutes.
The process continues until each "Peace scripture" from each tradition has been discussed. Then we invite a representative from each circle to stand up and share a summary of their group's discussion with the entire auditorium full of people.
I have had many opportunities to both participate in, and observe this process, which is known as "Scriptural Reasoning", but this group is both the largest, most diverse, and youngest group I have had the opportunity to observe.
I find their observations, insights, experiences and comments fascinating and surprising.  They are deep, but also open, and fresh and go places that I haven't observed in older, smaller, and less diverse groups.  I wonder where will this lead?
Will these young, diverse and global people, with their fresh ideas transform religion in unprecedented ways, or will world conditions and life cause them to collapse back into more traditional interpretations, or possibly even more fundamentalist interpretations, later in their development? I hope for the former possibility and I think about John Lennon's song "Imagine."
After our Scriptural Reasoning session the Abrahamic Reunion group is lead to a lounge for a rest while the students participate in more faith based activities.
Topics such as what are the characteristics of a religion, and what are the characteristics of a cult, and what is spirituality are explored. Students have an opportunity to engage in diverse spiritual practices such as chanting, meditation, the Muslim prayers, and Yoga Nidra.  I am so impressed with how UWC handles this day.
At the end of the day the Abrahamic Reunion group rejoins the students and faculty for a water ceremony. We are on a stage before the entire group and as each Abrahamic Reunion member says a prayer (some in the form of a song) in their native language, another Abrahamic Reunion member pours water into a pitcher.  After every Abrahamic Reunion member has prayed, and the pitcher is full, I pour the water into glasses for each A R member and Alex.  We drink the water, which symbolizes the coming together of prayers for peace from all of the faiths.
Mr. Eberhard Stilz, President of the World Ethic Foundation, and a true peacemaker, gave a deep and profound speech, and gave the UWC a World Ethic School award.
At the end of the day we gather in the UWC reception hall to meet foundation heads and German political leaders who fund and promote interfaith work in Germany.
Important connections are made and we discuss possibilities for the future.  When the last dignitaries leave, Laurence Nodder the Director of the UWC takes us out to a Turkish Restaurant to celebrate.  Thank you Alex for coordinating this event and thank you Laurence for hosting us, and also for housing Ghassan and I, and thank you UWC for this wonderful day.  It was truly one of the memorable experiences of my life to participate in this event.
Below are the scriptures the students discussed
From the Jewish Tradition
The only reason that the Holy One, blessed be He, created the world was so that there would be peace among humankind.
 (Bamidbar Rabbah 12A)
G-d announceth to Jerusalem that they [Israel] will be redeemed only through peace. Deuteronomy Rabah 5:15
From the Christian Tradition
Blessed are the peacemakers, for they will be called children of God. 
From the Muslim Tradition
O mankind, indeed We have created you from male and female and made you peoples and tribes that you may know one another. Indeed, the most noble of you in the sight of Allah is the most righteous of you. Indeed, Allah has full knowledge and is well acquainted with all things. Surat 49:13 
In Peace,
Dr. Anna Less, International Executive Director
UWC College Interfaith Day in Freiburg, Germany

We wake before daylight to meet Lawrence Nodder the Director of the UWC College in Freiburg.  Lawrence and his wife Debbie live in the downstairs of the building where Ghassan and I have been staying. In years gone by this building was the rectory of the monastery that the UWC College in Freiburg has bought for their campus.
The UWC is an amazing educational movement, which soon will have 17 colleges located around the world. Their mission is to use education as a force to unite people, nations and cultures for peace and a sustainable future.
The Freiburg campus has 200 students from almost 100 countries. They have been chosen because they have made the most of the resources that were available to them, with almost 90 percent on some type of scholarship.
Today the Abrahamic Reunion will help facilitate the UWC's annual interfaith event in Freiburg. Local German schools will also participate in the event.
As students pour in and I realize I have never been in such a diverse group of young people.
People recognize who we are and why we are there and come over to introduce them selves.  In just a few moments we meet people from Gaza, Jordon, Iraq, Syria, Thailand, Japan, Norway, Lebanon, Jamaica, Africa and the Philippines it goes on and on. I look into their bright young faces and understand I am looking into the faces of our future world leaders.
I feel so grateful for, and awed by both the UWC and the students who go there.
In Peace,
Dr. Anna Less, International Executive Director
Freiburg – Tibetan Kailash House Presentation
Tonight we had a presentation at Tibet Kailash House in Freiburg. This is a place of great peace and beauty.  I reflect on a book I read many years ago called "The Jew in the Lotus."  The book describes how the author Rodger Kamenetz, accompanies a group of eight Jewish leaders to Dharamsala, India, to visit the Dalai Lama, who lives there in exile. The text describes the interfaith dialog that took place during that meeting.
The Dalai Lama was particularly interested to learn how the Jews survived for thousands of years as a people in Diaspora. And the Jews want to know what was attracting modern Jews to abandon their Jewish heritage for Buddhism.
I contemplated how the Dalai Lama would behave as a peacemaker if he would be presenting in this setting tonight and I meditate on him before our talk begins.

Over 100 people show up for our presentation. This is our first "full house" in Germany, and our spirits are uplifted. The audience contains a large number of Palestinians and Jews. A woman fluent in Hebrew, Arabic and German comes forward and joins the group to translate.  When she speaks she can't stop smiling and her love and joy radiates through the crowd.  I study the effect she has on the room and tune my self some more.
I feel like I am taking a crash course in attuning to spiritual presence.
At the end of our presentation Wilfried Pfeffer the Founder and head of the Tibet Kailash House draped white silk scarves over our necks and presented us with a donation.
Thank you Wilfried for your support and for your service to human kind.
In Peace,
Dr. Anna Less, International Executive Director
Stolpersteins: Markers of the Past

I sleep and sleep and when I wake up it is late morning. It is rainy and cold. I seriously consider staying home to rest, but I remember my 6-year old grandson wants a soccer jersey from Germany, and I realize I have been on the road since mid September and this is my first day to shop since I have been gone.  I tell Monika (our hostess and Global Hope Fund coordinator for this speaking tour) that I am on a quest for a soccer jersey and I dream about buying 6 soccer jerseys; one for each of my grandchildren. I wonder how many grand children it takes to make a soccer team and on it goes. Moni tells me her son also wants a soccer jersey and he has been selling his old toys to raise money to buy one. I begin to worry how much German soccer jersey's cost, but Moni reassures me that she knows a store that sells soccer jerseys cheaper than most places, so we head off to town.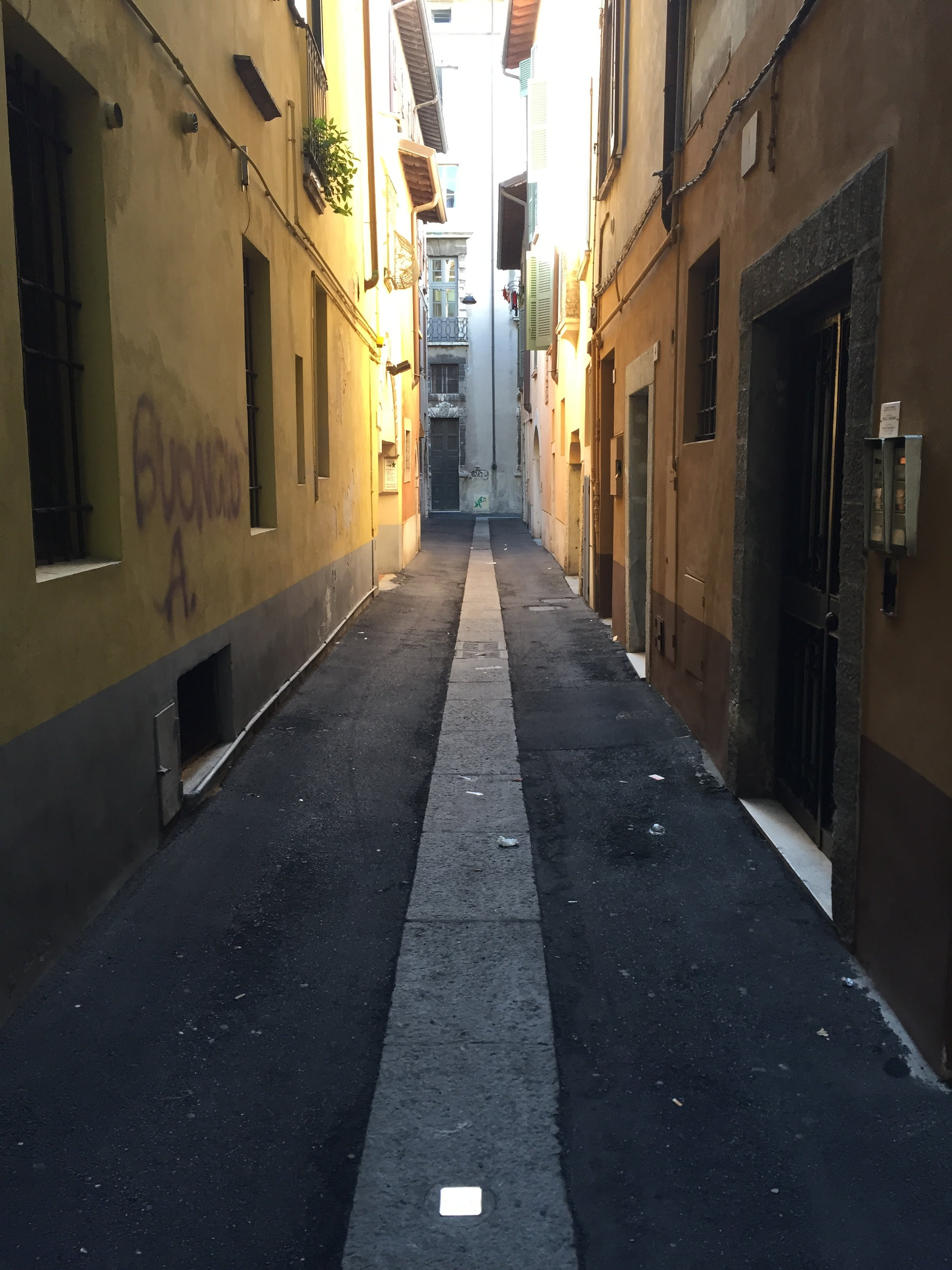 Photo Credits: Christian Michelides, CC BY-SA 4.0, https://commons.wikimedia.org/w/index.php?curid=44187004
As we walk though the streets I search for stolpersteins. Stolperstein are small brass bricks embedded in the cobblestone streets. The bricks are memorials planted before the residences from where Jewish people were taken during the Holocaust.  They are inscribed with the names of each person taken from each of those residences. It speaks about when they were born, when they were taken away and where they were taken and when they died.

Photo Credits: By Jwh at Wikipedia Luxembourg lu, https://commons.wikimedia.org/w/index.php?curid=45160393
The stolperstein project was initiated by the German artist Gunter Demnig in 1992, and is still ongoing. As of January 2015, over 50,000 stolpersteine have been laid in 18 European countries.

Photo Credits: By Axel Mauruszat – Own work, Attribution, https://commons.wikimedia.org/w/index.php?curid=3681895
In Freiburg there are many, many stolperstein, particularly in front of the houses in Freiburg's nicest old neighborhoods. Each time I come across a stolperstein in the streets of Freiburg I study the names on it and consider that if my husband and children and in-laws had been here in this beautiful city at that time their names and probably mine too would have appeared on one of these bricks.

Photo Credits: https://commons.wikimedia.org/w/index.php?curid=27060664
As we enter the shopping district the stolperstein stop and I study the prices of the football jerseys and I learn that a German football jersey's for a 6 year old costs about 95 dollars. My dream of seeing 6 little grandchildren in matching soccer jerseys evaporates.  Ghassan buys a pair of gloves and we go home to rest for the evening presentation.
Peace,

Dr. Anna Less, International Executive Director
A Deep Mutual Healing between Peacemakers & Germans

A Sufi Story.
One day the tax collector was walking by the river and he slipped and fell. Tumbling into the river he began thrashing about in the water. "Help. Help I am drowning," he cried. The people nearby rushed to the bank of the river and stretched out their hands to the poor drowning man.  They called out to him "Give me your hand!" "Give me your hand!" "I can't," cried the drowning man, as he continued to thrash in the water,  "I am drowning."  Just then a Sufi happened to be walking by and observing the situation he asked the people what had happened, and they explained that the tax collector had fallen into the river and was drowning. The Sufi stepped up to the edge of the river and stretched out his hand and called to the drowning man, "Take my hand," And the drowning man reached out his hand and the Sufi pulled him to the shore.

Every day as we continue on this journey this story has played in my head over and over again as I have wondered what is the soul's vocabulary that will heal the situation we encounter here.
As we travel throughout Germany I have come to recognize that there is a very complex psychological process that takes place when the people in Germany encounter a group of Israeli and Palestinian peacemakers.

Usually when I travel with the peacemakers in countries that are perhaps more prosperous and less conflicted than Israel and Palestine, I experience a type of sympathy for the Israeli and Palestinian people and a certain type of admiration for the peacemakers, but in Germany I experience something far more complex.
In Germany I sense a desire to be loved and healed from their own past and a sense of wondering if the world holds them at least partially responsible for the situation in Israel and Palestine.  For some there is a need to clarify where they stand accompanied with a wonder if they are allowed to have an opinion or to express it. Or if their views will be heard accurately or judged. There seems to be a desire on the part of the German people we meet to be seen by the peacemakers for the good people that they are and we encounter this feeling everywhere we go.  We encounter it in the people on the trains and in the vegetable markets, we encounter it in the bus drivers, and we encounter it in the people who have worked so hard to make this tour all that it is, in our hosts and in the organizers of our programs.  Over and over again on this trip I have looked into the faces of our hosts and I experience them as angels.  It is a rare experience on earth to look into the faces of human beings and to see angels but on this trip it happens every day.

I originally imagined when we came to Germany that we were coming to raise money for the peacemakers and their work, and perhaps that may happen, but I have realized as this trip has unfolded that there is a very deep mutual healing that is taking place between our hosts and us. When they feed us and care for us it tells us that the world hasn't forgotten us in our struggle for peace in the midst of a seemingly intractable conflict. And our profound gratitude and love for them and all they are doing for us also soothes them in a certain way that that I did not expect.  It lets them know that they are doing their part to heal the collective psychic pain inherited from the past that has continued to affect the whole world.  "Blessed are the peacemakers, for they will be called the children of God."  
A Palestinian Refugee at Münster's Annual Universal Worship Service
After signing the book of Peace, our Abrahamic Peacemakers were the key participants representing the Abrahamic Faiths in Muster's annual Universal Worship. Every year in Munster Reverand Cherag Anna Marie Ittermann presides over a Universal Worship, to which she invites clergy of the different world's religions to light candles on a single alter and pray for peace.

During the service Eliyahu McClain the Abrahamic Reunion's Israeli Coordinator said a Jewish prayer in Hebrew and Daniel Aqleh, who is an Evangelical minister from Bethlehem and the Abrahamic Reunion's Palestinian Coordinator, said the Lord's Prayer in Arabic. Khalil Albaz a Bedouin Imam who is also an Abrahamic Reunion peacemaker traveling with us also said prayers in Arabic from the Muslim faith.

At the end of the service approximately 75 people joined hands and sang for peace.  One woman with tears of joy in her eyes approached me and shared with a heavy German accent,

"I never thought I would see this. My name is Siham and I am a Palestinian.  I came from Gaza. When I was five years old an Israeli bomb fell on our house and I saw five of my brothers and sisters killed. I became a refugee and I have been living in Germany for the past 40 years."

Her face crumpled and her tears quickly changed to sobs as I reached out my arms to hold her.  Seeing her grief Sana came over to hold her too.

Our Arabic speaking members gathered around her to soothe her in the language of her childhood.

This is our work.
Signing the Book Of Peace in Münster
We have had a very intense time in Munster.
Once we got off the train with our huge suitcases it was obvious to our hosts we would not be bicycling to our respective homes.
Munster is one of Germany's Green cities. The cobble stone streets of the ancient city center make it impossible to use cars, so every one bicycles.
After taking taxis to the homes of our various hosts on the out skirts of town, we dropped off our things and headed for the Historical City Hall of Münster to meet Munster's mayor who explained the significance of this famous European landmark to our group.
The Historical City Hall of Münster was used for the Peace negotiations what ended the Thirty Years' War in Europe and simultaneously ended the Eighty Years' War between Spain and the Netherlands This was the first time in history that a war was ended through the process of peace negotiations rather than military victory.
The Thirty Years' War (1618- 1648) was one of the longest and most destructive conflicts in European history and it was Europe's deadliest religious war, resulting in eight million casualties.
Initially a war between various Protestant and Catholic states in the fragmented Roman Empire, it gradually developed into a conflict involving most of the great powers of Europe.
The peace negotiations to end these wars took five years and the peace delegates from through out Europe travelled with their entourages of up to 250 people to Munster, where the local inhabitants were compelled to house them while they participated in the Peace Process.
As the Mayor of Munster described this ancient European history it was easy to transcribe these events on to the current situation in the Middle East.  By changing the religions and countries involved and our humble role in the peace making process, we were awed by the similarities, and could only pray that the current situation in the Middle East would also end with peace negotiations.
Even most of our German hosts had been unaware of this history. Following our tour the mayor escorted us upstairs to the Peace Room in the City Hall where we signed the City's Hall's Book of Peace, an honor reserved for peacemakers.  As news paper reporters recorded the events, we added our signatures, signed in the name of the Abrahamic Reunion and accompanied by the names of our countries to Munster's Book of Peace, and as the Abrahamic Reunion we felt deeply connected to the stream of peacemakers who through out time and space had also signed this book.
Kristallnacht Commemoration Service in Münster
It is November 9th the morning after the American Elections and the whole world has awakened to learn that Donald Trump is  the new American president, and our German hosts have arranged for us to be the special guests at the commemoration service for Kristallnacht in Munster's synagogue.
The synagogue we enter is modern and has obviously been newly built. However, it stands on the sight where on November 9th in 1938, Munster's synagogue was destroyed in an event that lives in infamy as Kristallnacht, the night of broken glass.  That night Jewish homes, hospitals, and schools were ransacked, and the attackers demolished the buildings with sledgehammers.  Over 1,000 synagogues were burned and over 7,000 Jewish businesses destroyed or damaged.
The pretext for the attacks was the assassination of the German diplomat Ernst vom Rath by Herschel Grynszpan, a German-born Jew living in Paris.
When we arrived at the crowded synagogue, I was surprised to realize how many Jews appeared to be living in Munster.  We took our reserved seats near the front of the congregation and a number of very elderly congregants smiled and greeted us. It was obvious that Sana in her Hijab and Bedouin clothing and Ghassan and Khalil in their traditional Muslim hats were unusual participants in the ceremony.
The Rabbi described what happened to the synagogue on Kristallnachcht and other eminent members of the congregation expressed concern about where America appeared to be heading in the wake of Trump's election.
They implored participants to not forget Kristallnacht and to overcome their prejudices and fears of the other.  They explained that now it was the time to be courageous and to protect the vulnerable, and the refugees of Muslim Extremism.  As the speeches continued our translators grew silent, too emotionally affected to continue translating.
During the service 6 candles were lit, each representing one million Jewish holocaust victims (6 million total). Eliyahu took pictures for his wife whose grandfather's shop in Berlin was destroyed on Kristallnachcht and whose relatives were subsequently killed in the Holocaust.
Following the service there was a reception upstairs in the synagogue. Many participants in Yarmulkes came to shake our hands, welcome us, and some introduced themselves in Hebrew. It was then that we were shocked to realize that many of the participants were not Jewish. They were German Christian clergy who had studied in Israel, and they were German politicians.  Only some of the participants were actually Jewish, but they were anxious to connect to Eliyahu and the other Abrahamic Reunion members from Israel. One Jewish man who had fought in the six-day war was anxious to seek out Daniel and asked how the war had affected his family. We recalibrated and absorbed the complexity of what was taking place as our German hosts and translators came and thanked us, and explained that because they were with the Abrahamic Reunion it was the first time they had ever been in a synagogue, and for them as Germans the service was very important and healing.
This is our work.

DAY 3 – From Germany to Israel & Back Again
This afternoon we finally arrived in Hamburg, after a long adventure riding the German Bahn, their train system, which is highly efficient and a fast way to travel throughout the country.
Our hosts Michael Nuessen, his wife Claudia, and Pamela Hall met us at the station, and we learned more about Michael's storied family history.
During the war Michael's Jewish grandfather was killed in Auschwitz, while Michael's father, Hans, was in the Hitler youth movement. In the last days of the war Hans was wounded and sent to a military hospital in Germany, and a Jewish doctor treated him. Hans was so impressed by the Jewish doctor's compassion that he converted to Judaism and moved to Israel, where he was wounded a second time.
While he was recovering in the Israeli hospital, Hans met a young nurse, Elana, a Holocaust survivor.  They married and moved together to a kibbutz in th South of Israel near where Imam Khalil and Sana Albaz now live. Michael was born in the kibbutz and grew up there as a child until 1957, while Michael was five years old, his parents made the courageous choice to return to Germany so Hans could take a job. It was meant to be a temporary job, but they never returned to live in Israel.
After dropping off our bags in our respective homes, we gathered to eat a delicious dinner in a Syrian restaurant. When we introduced ourselves at the restaurant, our beautiful young waitress was surprised to realize that Daniel was from her hometown, Bethlehem.
We all spent the rest of the meal joking with Daniel and the waitress about the possibility that they were destined to meet in this way.
DAY 2 – Palestinian Peacemaker Rev. Daniel Aqleh Arrives 
I am sending you a picture of our Abrahamic Reunion in Frankfurt, where finally our dear brother Daniel Aqleh has arrived to join Ghassan, Khalil, Sana and I in the home of Andreas and Christine.
His journey to get here says it all. While the rest of the Peacemakers were able to quickly and easily buy airline tickets, hop a taxi from our homes, and fly right from Tel Aviv to Frankfurt, Daniel as Palestinians are forbidden to fly from Tel Aviv. As there is no major airport in Palestine, Daniel, when permitted, flies from Amman, Jordan.
He
began applying for his Germany visa in September, only to be told the earliest appointment he could get was in November the day after everyone else would arrive for our first program in Germany. Although he is completely fluent in Arabic and English, the forms were so complicated he had to ask people from all over the world to help him fill out the paper work as one small mistake could ruin his opportunity to come.
He says without Monika Kornisch's (Global Hope Fund / Abrahamic Reunion Germany Coordinator) many emails, formal Abrahamic Reunion letters of invitation, and his letters of recommendation detailing his nine years of employment at Bethlehem Bible College, he would not have been able to get his Visa. Thanks to multiple calls and letters from our coordinators in America and Germany he was able to secure an earlier interview in late October.
But the interview was only the next step. After passing the initial interview, Daniel underwent several health checks, purchased mandatory insurance for his trip, and traveled 8hrs through  border checkpoints in Palestine, Israel, and into Jordan, to Amman for his flight, which cost three times more than the flight from Tel Aviv the rest of us were on.
(Daniel's father tells him how he remembers family outings to Amman for lunch when he was a young man. It was a journey that took less than an hour, compared to the multi-day journey now undergone.)
(Left: Sana prepares to make makloubeh for our group, with Christine, one of our hostesses)
We are grateful that Daniel has arrived safely. Tonight Sana will make makloubeh (a Palestinian specialty) for us all and tomorrow morning we will take a 6 hour train ride to Hamburg for a meeting with Syrian refugees.
Day 1 – Meeting Sheikh Hassan in Frankfurt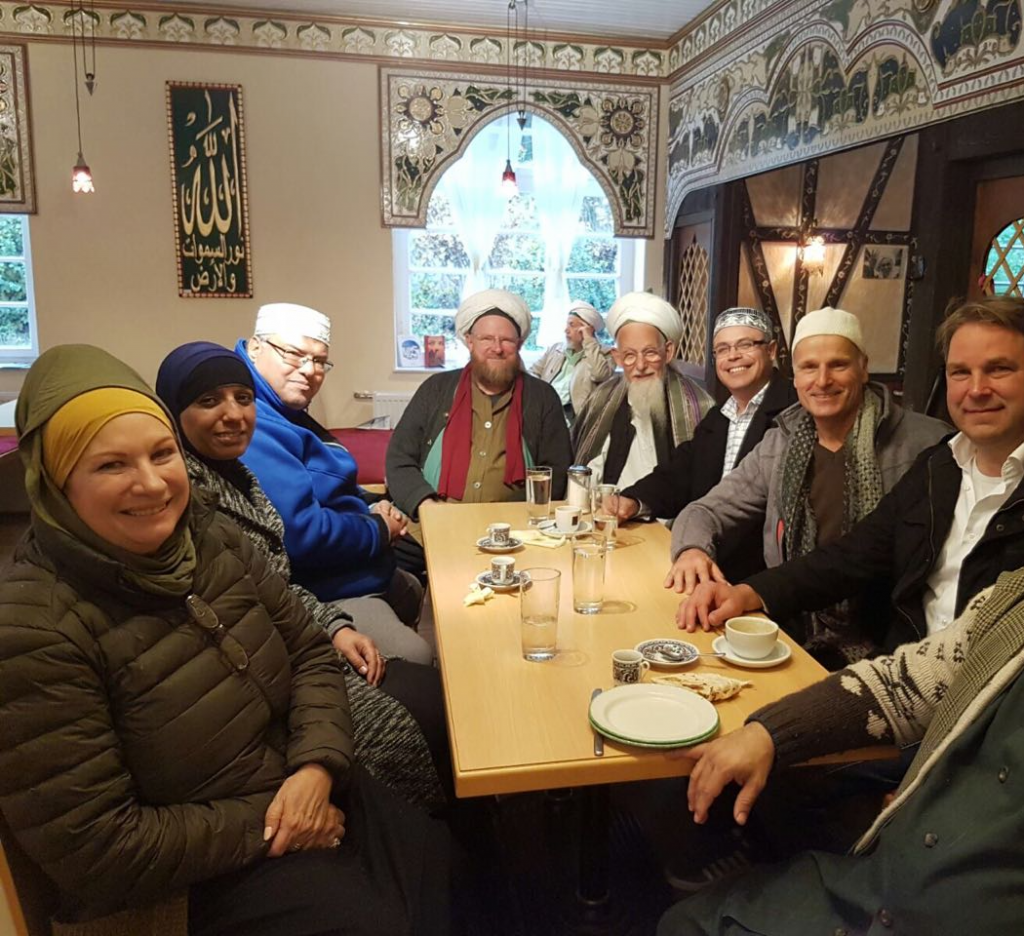 This is a picture of our meeting with Sheik Hassan Dyck in the restaurant associated with his Tekka (Sufi Center) where we met after Jummah Prayer (Friday prayers) and Zikr (chanting) in their Mosque. Sheikh Hassan gave a great Hutba (sermon) in English that was translated into Arabic for the Arabic speaking participants in the Jummah Prayer. He also led a great Zikr afterward, which Ghassan loved. Sana had a head ache and asked me to sit with her so unfortunately I missed the Zikre, which I would have loved to do as I have seen Sheikh Hassan's Zikres on You tube so many times.
Sheikh Hassan is sitting next to Ghassan. Sheikh Bukari, one of the Abrahamic Reunion's founding and foremost members, now passed, and his wife Hala have stayed in their "dargah" many times.  They use the term Dargah differently than it is used in India. They call their center a Dargah, which they explained means a mosque with a living quarters associated with it, in India a Dargah is where a saint is buried.
Because I was sitting at the other end of the table I didn't get to talk to Sheikh Hassan too much, but he has a wonderful energy and he and Ghassan and Khalil were really able to connect. Our eyes met and in our glance we knew.
I had the feeling that somehow we had met before being born, in a special class together to be trained for a certain type of destiny and responsibility in life, and as I sat at the table, it was almost as if I could see and remember every detail of that class, the color, the atmosphere. I felt that each of us had expressed certain details from the memory of that place in the spiritual leadership that we each hold responsibility for in different parts of the world. I felt like I was at my class reunion.
Abdul the lovely man sitting next to Sheikh Hassan in the picture showed us around their center, which has been converted from a bowling alley into something that looks like it came out of Shaherzad, with beautiful calligraphy and Arabesque designs. You can see them in the back ground of the photo.
It all came together to remind me of rich, spiritual, interfaith experiences I have had at The Parliament of the World's Religions, or The Abode Of The Message in NY, to name a couple. It was an amazing day. Thank you Mumina for connecting us and Monika Kornisch for making the appointment.
Deep Love, Anna Less